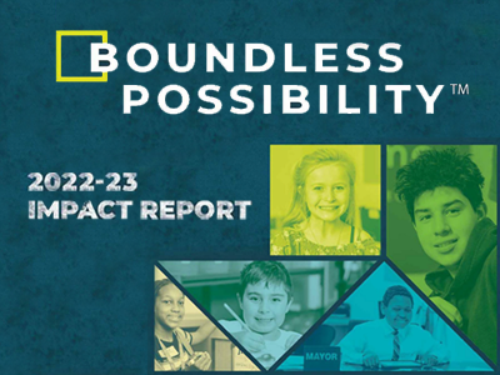 Celebrating Yesterday
The 2019-20 fiscal year began with Junior Achievement (JA) celebrating its 100th anniversary. In the first 100 years of our organization, JA volunteers inspired and prepared more than 112 million young people for success in the workplace by teaching them ageappropriate, interactive, and engaging lessons about financial literacy, entrepreneurship, and work readiness. Celebrations during the fall of 2019 included creating time capsules to be opened at the end of the next 100 years and the airing of "Made Possible: The Business of Junior Achievement" which appeared on Wisconsin Public Television in September, 2019.
Enhancing Today
The relevance of Junior Achievement programs was more impactful than ever with the promise of new blended-learning, augmented reality and project-based programs to be launched in the 2019-20 school year. The goal of Junior Achievement of Wisconsin was to reach 151,000
students across the state with a focus on work readiness programming for middle and high school students. The JA mantra was "Be Bold" and was reflected in the January 2020 opening of the Community First Career Exploration and Financial Literacy Center in Appleton, WI.
Embracing Tomorrow
The resilience of Junior Achievement was tested in early 2020 when the COVID pandemic hit the United States, closing Wisconsin schools and shifting education from the classroom to the computer. Within a matter of days, over 3,200 JA classroom programs were cancelled, impacting nearly 40,000 students. The staff at Junior Achievement accepted the challenge and developed nearly 100 pre-recorded videos that students of all ages could view while learning online. Next came the redevelopment of 50 face-to-face programs so JA volunteers could connect with students in a new way. This allowed JA to remain a solution provider for educators across the state. Whether JA volunteers delivered lessons live over the internet, or in pre-recorded videos, they helped students learn important lessons about work readiness and financial literacy.
View Full Report